Throughout the course of each child's Dew Drops Little Flower experience, they are bound to travel with us. Many times this is to transfer a child to or from our long-term locations (Inner Mongolia and Shanxi) to Beijing. They come to Beijing to seek medical expertise and return to their home province for long-term care and/or to be adopted.
Here we tell the story of Bei's travel from Beijing to our home in Inner Mongolia. While Bei was in our Beijing home, he was treated for club feet. Earlier this month he transitioned from two large casts to braces. With his transition to braces, he was ready to move from our more medical intensive Beijing home to our long-term home in Inner Mongolia. In addition to continuing to receive medical care in his new location, we are hopeful that Bei will strengthen his eating skills by being with our older children in the mom-care unit.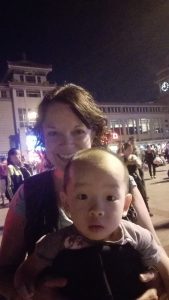 The trip from Beijing to Inner Mongolia is a total of 8 hours by train. This overnight train ride is no small feat, especially for a feisty three-year-old. Bei went with two of our staff members, Mary Claire and Rebekah, and our physical therapist, April. To catch our 11:00pm train, we left the Beijing home at 9:00pm and traveled by car to the train station. For Bei, the short car ride was an adventure in and of itself; he was intrigued by the busy street and all of the unfamiliar noises and smells. Once we arrived at the station, we hurried to find our train and get settled in. As it was already long past Bei's bedtime, he was quite tired once we reached our bunks. As the train began to move, the swiftly passing scenery and the soft sway of the train lulled Bei right to sleep. We woke up in the morning as the train slowly pulled into our stop in Inner Mongolia. From the station, we went directly to the long-term home, arriving there around 7:15am.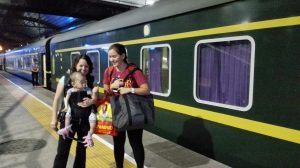 Bei was excited to see some familiar caregivers at this home, but especially his "big kid" friends. When they sat Bei down for breakfast around the big table, we could already tell his eating habits would quickly improve! The older kids set a wonderful example for him and we know he will continue to thrive in these surroundings.
That morning, April taught the on-sight physical therapist how to stretch Bei's feet and properly remove and put on his braces. They developed a strategy to make this routine as comfortable as possible for him. In his free time, Bei went straight to the bookshelves to look at the new books! He was so excited to have sing-a-long time with the older kids as well!
We are eager to watch Bei grow and learn in his new home and very happy this transition came with such ease!
If you would like to invest in Bei, please consider sponsoring him. You can sign up
here.